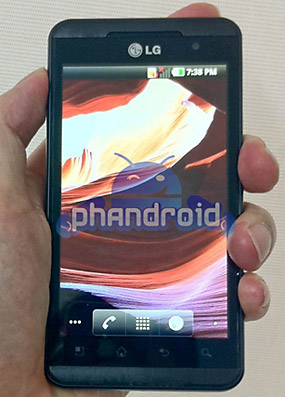 It was only week ago that an email from LG invited us to get "into the new dimension" at the LG press event at the MWC 2011. And here's first photo of what could presumably be the LG Optimus 3D.
Here's the photograph in question. As with any rumor, take this one with a pinch of salt. Keep in mind that the phone doesn't really look like neither the LG Optimus 2X, and the Optimus 3D was supposed to be a 3D-capable version of the 2X.
As we reported earlier, the LG Optimus 3D should pack the 3D-capable version of the Tegra 2 platform and a 4.3-inch 3D mobile display that was showcased back at CES 2011.
The first glasses-free 3D screen phone will hopefully be announced at the MWC 2011 in Barcelona in less than two weeks from now and we couldn't be more excited about it. Be sure to stick around for some exclusive coverage and more detailed information about the LG Optimus 3D.