The Bada flagship, Samsung S8530 Wave II, has finally arrived on the UK shores. The Super Clear LCD-packing smartphone is now available at Phones4U and can be had on a contract with three of the major carriers in the country.
Vodafone, Orange and O2 are all offering the Samsugn S8530 Wave II for free as long as you are willing to sign a contract worth at least £20/month contract. Orange and Vodafone are requiring a two-year commitment, while O2 is ready to let you off the hook after 18 months.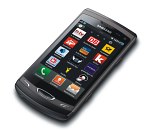 Samsung S8530 Wave II
However the O2 deal is subject to £100 cash-back, which means that you fork the cash up front but you get 100 quid back split in four £25 refunds following your 9th, 12th, 15th and 18th monthly bills. It looks like a pretty decent value to us and if you are on the look for a smartphone on the cheap it might be the thing for you.
If you still haven't made up your mind, feel free to check our Samsung S8530 Wave II review, which should answer all your questions about the handset.