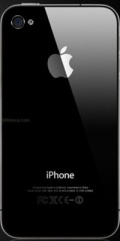 There has been a lot of speculation about the iPhone 5 but the camera department has rarely been mentioned. Well now we know its manufacturer and resolution.
Previously there was just those vague rumors that Apple is considering changing their current OmniVision-produced camera with a Sony one.
Well now we have a confirmation that the Cupertino-based company has gone ahead with the move from no other, but the Sony CEO. In an interview with the Wall Street Journal Sir Howard Stringer let slip that his company is supplying camera modules to Apple. And since none of the existing Apple products use Sony modules it's only logical to assume that those units are set for the iPhone 5 production.
Which leads us to the conclusion that the Apple iPhone 5 will pack one of those sweet 8 megapixel Exmor R backlit sensors. The other Sony module that's meant for cameraphone usage is 16.4MP unit, but it seems unlikely that Apple will use it as it is significantly larger and that would make the iPhone 5 way thicker than its predecessor.
Sony creates those image sensor technology in the Sendai factory in Japan, which is one of the affected factories by the earthquakes and tsunamis, which hit Japan this year. It's yet unclear if that will affect the iPhone 5 availability, though.
So, larger screen, an 8 megapixel camera and, possibly, NFC for the next iPhone then. It's starting to look as a pretty decent upgrade, right?
Source